Tips to get better reception
Try an amplified TV antenna if you live far from a broadcast tower or your reception is marginal.

Rescan for channels periodically; you might get a new station or two.

Try the antenna in different spots around the room, preferably near a window. See whether placing it in a higher location, such as an attic, helps.
Purchase advice
Reception Strength
Depending on whether you live in a conurbation or rural area, reception strength should play a role. In rural areas, high reception strength is recommended, as these regions are not as strongly geared to terrestrial TV reception as large cities. A constant and stable DVB-T reception can be assumed from a level of approx. 30 dB upwards. If the reception is not strong enough, a coax cable with strong shielding or an antenna amplifier can be used to amplify the DVB-T2 reception or the Outdoor Antenna.
Picture and sound quality
In very rare cases it sometimes happens that the picture freezes and the TV has to be rebooted. But even the best Outdoor antenna is of little help if, for technical reasons, the TV does not deliver high-quality picture and sound quality. For this reasons and things do not happen again, we need to keep in mind the picture and sound quality of the antenna. 
 Cable length
Depending on the TV room and the antenna placement the cable length varies accordingly. The best reception is usually at the window or on a cupboard in the upper part of the room, where the TV signal cannot be disturbed by bulky objects or persons.
Try the following suggestions if your TV antenna is not working as expected
Make sure your antenna is hooked up correctly and even the source input is correct.

Run a channel scan on your HDTV. Depending on your TV, select Antenna, Off-Air Mode, or Auto-scan. See your TV documentation for more information

Check a website such as http://www.tvfool.com or http://dtv.gov/maps to see the exact direction of the nearest broadcast tower and face the antenna towards this tower.

·Try positioning the antenna in different locations and mounting the antenna up as high as you can, re-scanning for channels afterward

For amplified antennas, if a signal cannot be received with the detachable external amplifier, remove the amplifier and try again.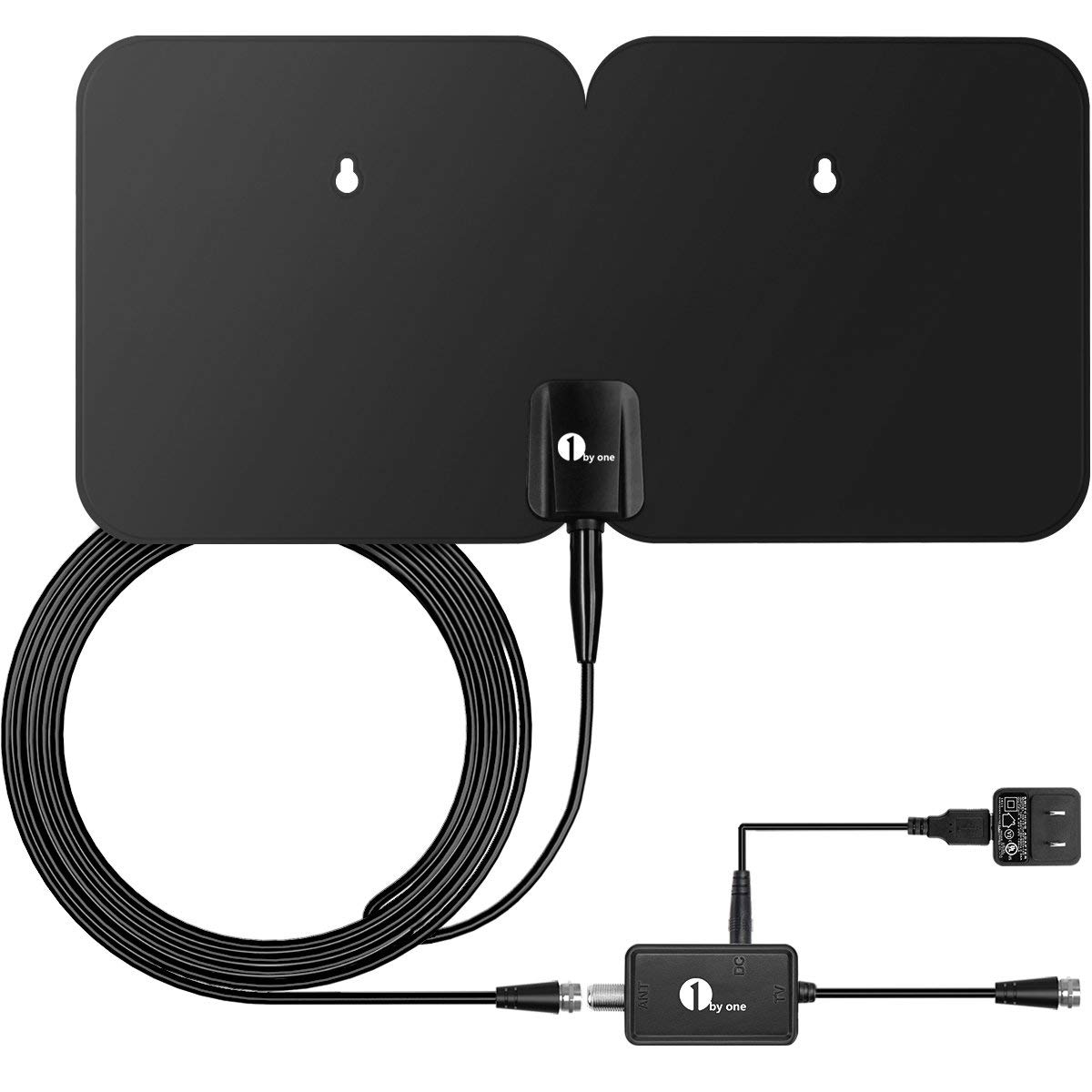 This antenna plays all the local channels crystal clear from news broadcasts, kids cartoons, sports etc with 720p, 1080i, 1080p, and 4k/ATSC HD specifications.
The modern and upgraded design of the digital TV Antenna is ultra thin and waterproof.The cellular signals are filtered out  so as to give a better access of the channels
The Stable UHF and enhanced VHF signals CBS, ABC, Fox, NBC, CW, PBS and SO MUCH MORE.
Reach up to 100 miles reception with the detachable amplifier signal booster. 
Package contains:
1 x Outdoor Paper Thin Digital HDTV Antenna

1 x 26ft RG59 Coaxial Cable with Waterproof Attachment

1 x Detachable External Amplifier

1 x 5ft USB Power Cable

1 x Optional USB Adapter, 5V 200mA

2 x 3M Adhesive Mounting Stickers

2 x Screws and Plastic Plugs

1 x Instruction Manual

1 x Warranty Card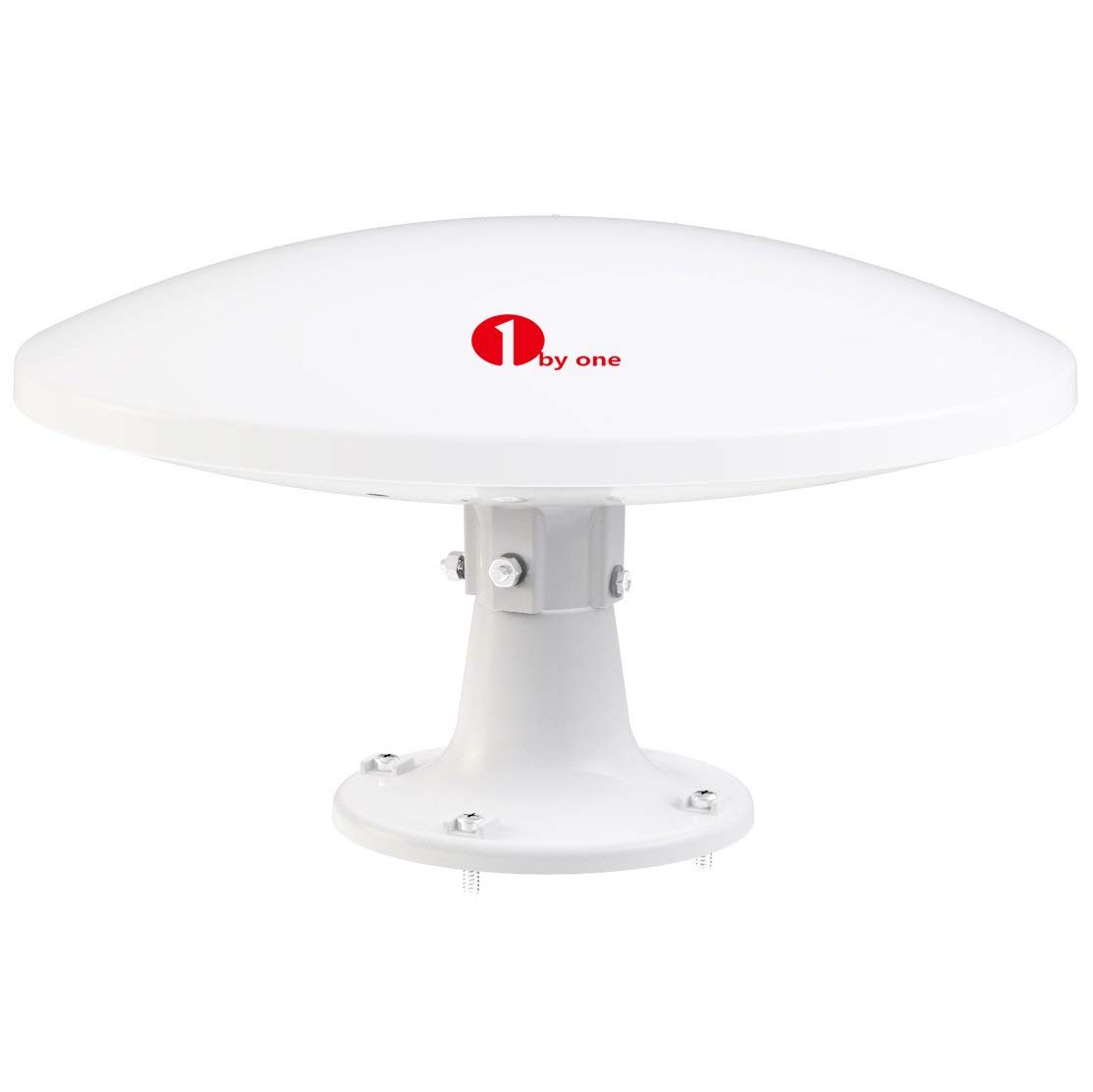 Designed to be omnidirectional with a full 360-degree reception. You don't need a remote control, as traditional huge outdoor antennas required to change the receiving direction for a better signal. You can install it using the available accessories, this is a yagi antenna. It supports 1080 HD. For watching HD channels make sure that your tuner is an HD tuner. 
You can check out the other 1byone outdoor antennas with best picture quality and signal reception. We have many options available that suit your need.