For those who love to eat and cook at home, the kitchen becomes the main place, and it has to be equipped with ingredients, foodstuff, and appliances of assorted sorts, each appliance performing a specific set of functions. Cooking is advised by medical and health professionals since it's healthier and hygienic also. Preparing food to feed the family is a time-consuming procedure requiring a lot of time in the kitchen.
If you're a meat lover then meat tenderizer can be your home cook's best friend. Usually, meat, especially beef, needs a longer time to be cooked at a very low temperature to achieve the effect. However, this takes up a lot of time and effort. But today we are living in a modern world where nobody and nothing will wait for you, everything should be fast. Especially in restaurants and hotels, you need something fast and able to do work quickly.
Benefits of Using a Meat Tenderizer
Save your Time
Meat tenderizer is significantly saving almost 40% preparation/cooking time. You can tenderize your chickens to make them even more succulent. Everything from pork to fish, it can be done in a tenderizer.
Make your Meat More Delicious
Even this tenderizer will make your meat more tasty and delicious. Because it does break down meat fibers, flavors easily absorb into the meat. They cling better, making your rubs and marinades stick better to the meat. You won't have to let your meat rest for such a long time. It easily seeps into the meat. This also cuts your preparation time.
So, how is it to choose the perfect meat tenderizer? Here are some tips for selecting the tenderizer for your home.
Reliability and Durability
It is important for you to know that the appliance you are having is something that will last. In testing the durability and reliability of the meat tenderizer, the first thing to consider is the materials used in it. Nowadays due to technological advances, processors have plastic parts in it. It is purely alright to have plastic parts, but just be sure that the plastic is of good quality.
Easy to Disassemble
Keep in mind that meat tenderizer you will purchase should be easy to disassemble. This is due to that fact that appliances which are easy to put apart and easy to put together are more user-friendly because you will be able to have a direct look at the parts and their functions. Aside from that, it should be easy to use and clean.
Do Proper Research Before Purchasing
Always do some research whenever you are planning to purchase one since it will definitely help you in making a right decision, making it easier to pick the best one. Having your own tenderizer will be the perfect choice to prepare the best meal for you and your family.
There are many tenderizer machines available in the market, but some are too expensive. Here I am going to share my favorite tenderizer.
 Professional Meat Tenderizer with Safety Lock Design

The  meat tenderizer is a great option for families on a budget. This is one of the most affordable models, and it works just as well as some of the mid-range units.
It's easy to use, unlock the tenderizer, place it over the first section of meat, and, press down. Next, keep moving the tenderizer to different parts of the meat and pressing down until all the meat has been tenderized. After use, just clean the blades with a small brush and keep it out of the reach of children.
It doesn't matter whether its beef, pork, veal, chicken, turkey, fowl, etc. – you will be left with tender meat.
Altogether, there are 56 stainless steel blades in this unit. The housing is made of durable ABS plastic that won't rust or change shape even after long periods of use.
 This unit is rather compact, so it won't take up much space in your kitchen. I really like that this model comes with a safety lock design.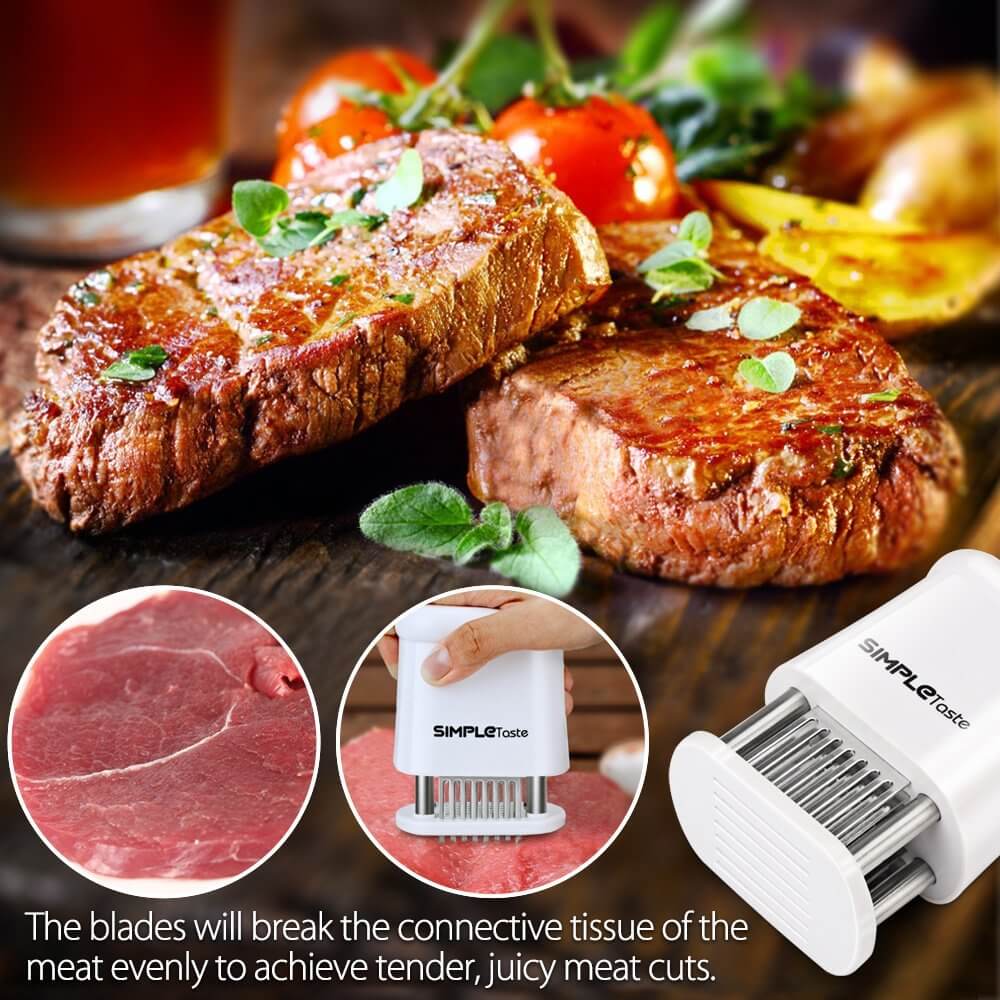 Pros.
+Easy to use
+Affordable
+Tenderizes even the toughest cuts of meat
+Safety lock
+Compact, vertical design won't take up too much space in your kitchen
+Allows you to save money by tenderizing tough, cheap cuts of meat
Cons.
-It can cause injury and should keep out of reach from children
Now enjoy your cooking by creating a set of masterpiece dishes and impress your family and friends.
Bring Out the Best in Your Meat!!