The idea of amplifying a TV signal seems to make perfect sense: if your TV signals are weak, the amplifier TV antenna will enhance the signal levels so you can get more channels more reliably. 
The benefit of choosing to use an outdoor TV antenna instead of an indoor TV antenna is a reception. An indoor TV antenna has the disadvantages of being smaller and having to receive TV signals through the structure of your home or other building. That typically translates to a less powerful signal and poorer reception. An outdoor TV antenna can be larger and can achieve line of site with the transmitting antenna with no obstructions.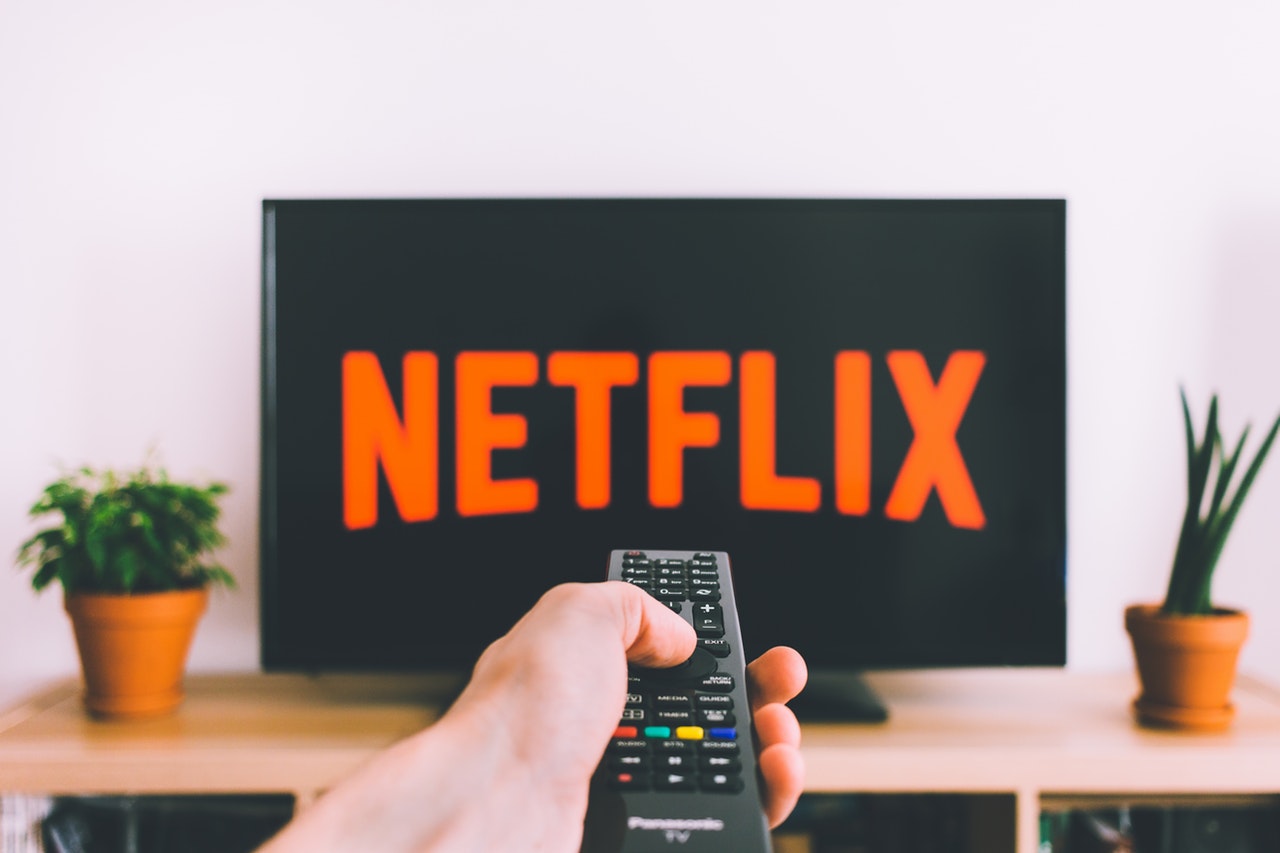 What should you look for in an outdoor antenna?
Power
Antenna power is misleading because antennas are passive and don't actually generate any power. It actually refers to the antenna's gain, which measures how much power of the transmitting antenna's power your antenna can actually receive. The higher the gain, the better the reception.
Frequency
TV stations broadcast over UHF and VHF frequencies. To have the best chance at receiving the most channels in your area, you should choose an antenna with both UHF and VHF capability. The only time you would want to choose an antenna with a single frequency range capability is when you only have the choice of one or the other at your location. For most, a dual UHF/VHF TV antenna is the way to go.
Easy installation
The antenna should be flexible so that it can easily install. Nowadays modern antenna is so much easier to install than big traditional antennas using the included accessories.
Coaxial cable
Having a more than 24ft high-performance coaxial cable makes it easy to place the amplified antenna in high-reception areas.
Our Recommendation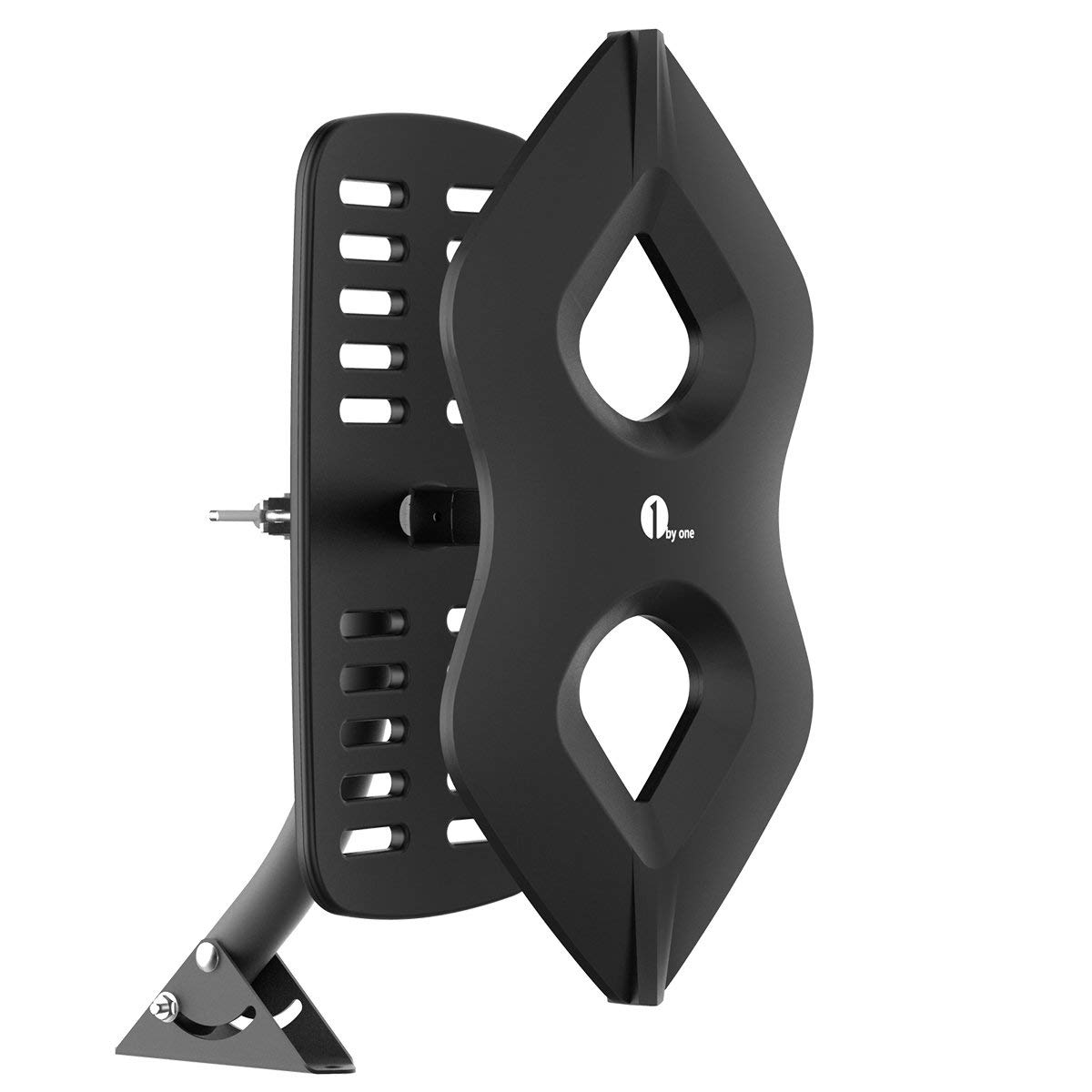 Looking for a powerful outdoor TV antenna? We've designed all TV antennas, with the upcoming frequency changes in mind. We develop our TV antennas to stay in the forefront of getting you the BEST TV available in your area. When these frequencies changes happen in your area, the TV antennas are ready to receive the signals, all in high-definition, and can be used in your outdoors.
Special Features:
New Concept Design Antenna
This modern antenna intended with a compact size to reduce wind load and provide much better signal reliability on windy or rainy days. Consist anti-UV coating and waterproofing/snowproofing provide shielding for minimum interference.
Reflection Net Design to Enhanced VHF/UHF Reception
It can enhance the receiving performance and stronger signal reception with less signal loss by Reflection Net.
Easy tools-free installation
Once you've chosen and purchased a TV antenna, you may wonder how to install it and where. But in case of 1byone's outdoor TV antenna, you don't have to worry. Compared to big traditional antennas, this modern antenna is much easier to install. It is easy to install and also save your money of installation.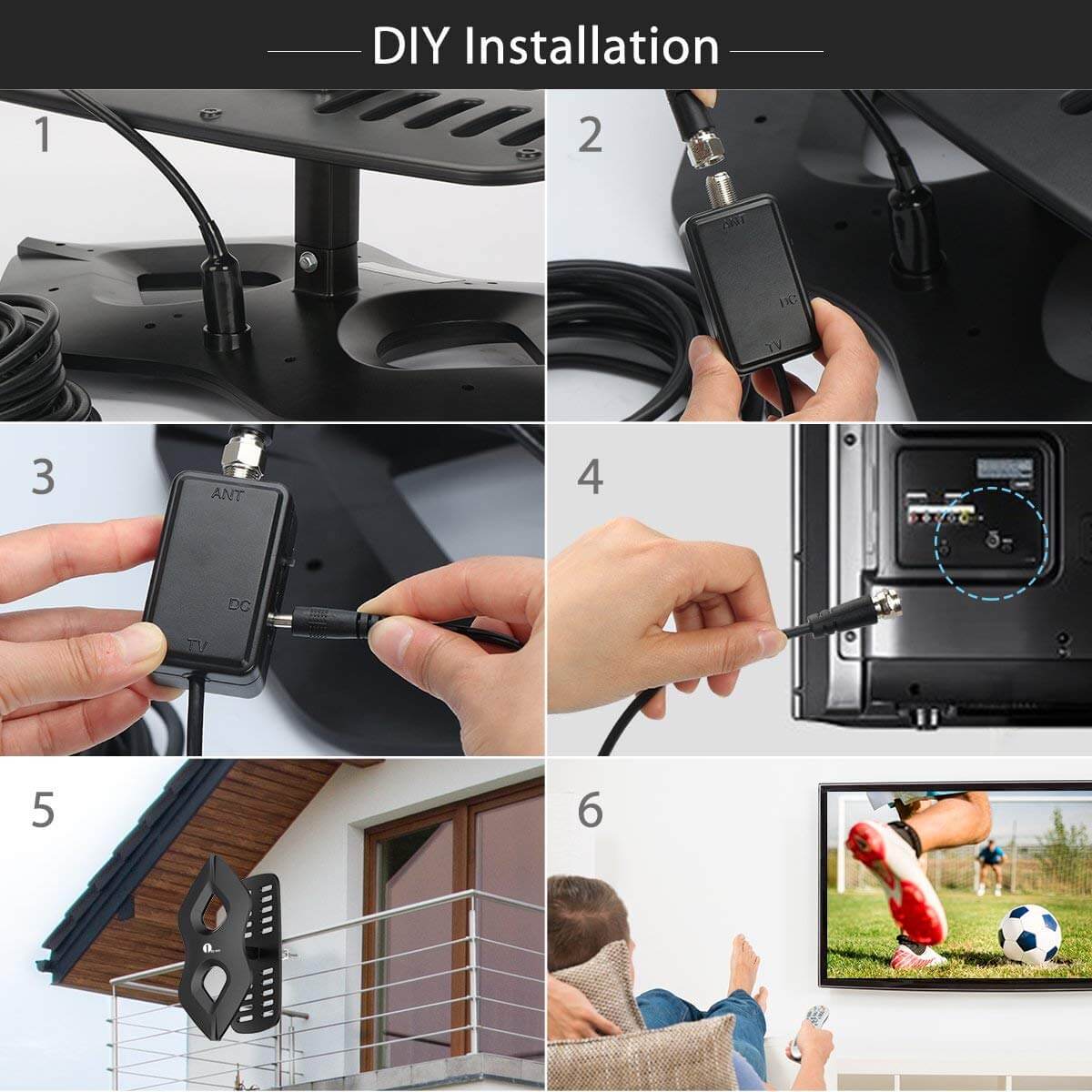 Free for Life
Never pay your cable or satellite fee for television again! You can get all local channels crystal clear and absolutely free! The 1byone antenna can pull in all of your local news, sitcoms, kids and sports programs. Simply connect the antenna to your TV using a coaxial cable, perform a channel scan, and in minutes you'll be enjoying your free local programs.
Longer Cable for Convenient Setup
It includes a 26ft high-performance coaxial cable which makes it easy to place the amplified antenna in high-reception areas.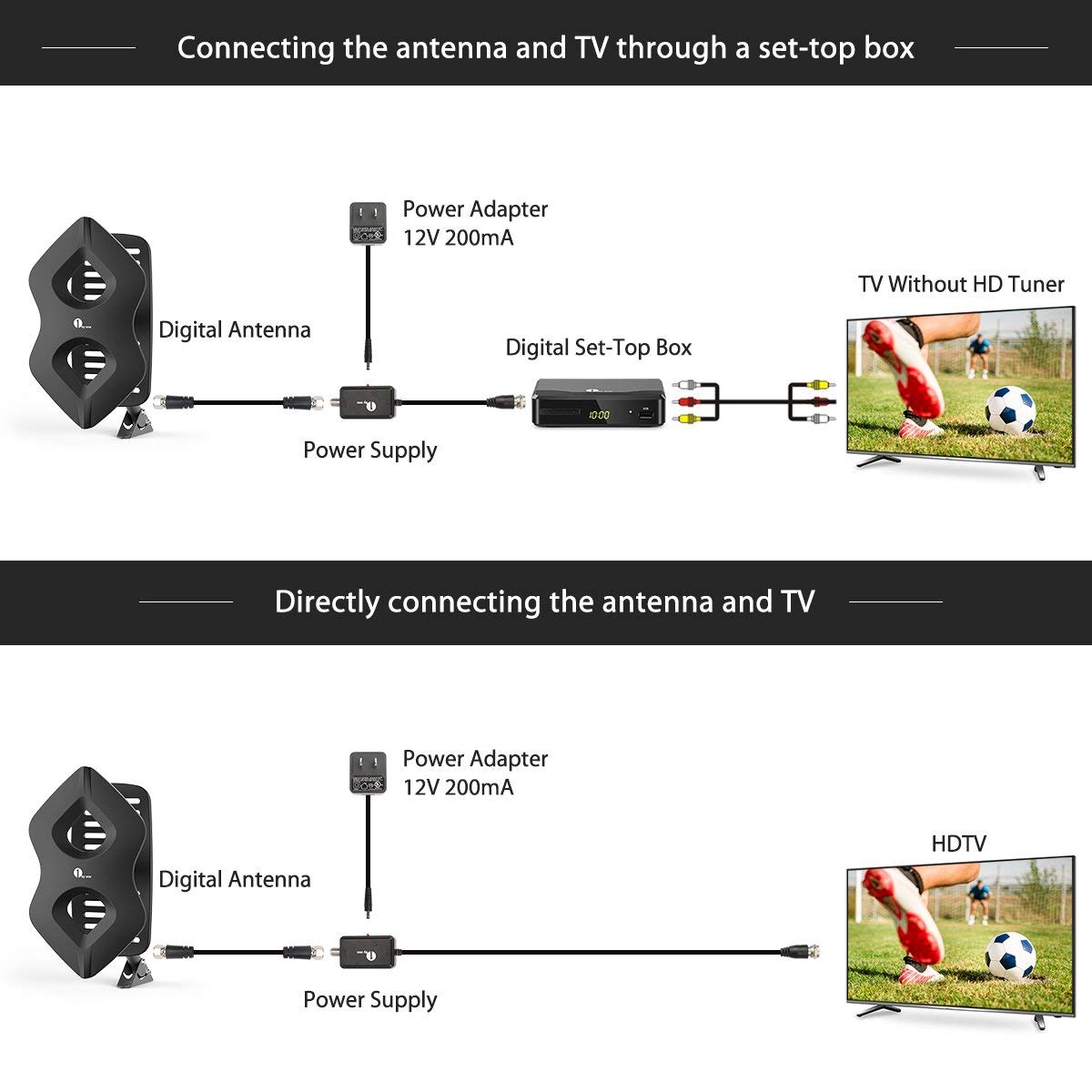 It is always believed, whatever the conditions can be, and you should opt for an outdoor antenna. Now the question is why? So, here we have the answers -
1. They give you the best signals as they are immune to all type of disturbances. They give you the best picture quality and live no room for disturbed signals.
2. Contrary to the popular belief that an outdoor antenna can be placed on the rooftop only, there are some models which can be hung on the outer walls, around your courtyard, railings, windows etc.
3. They come in varied sizes so there is no need to worry. You can choose an antenna based on your needs. One thing more! Whatever size you choose, you will always get the same quality of the picture.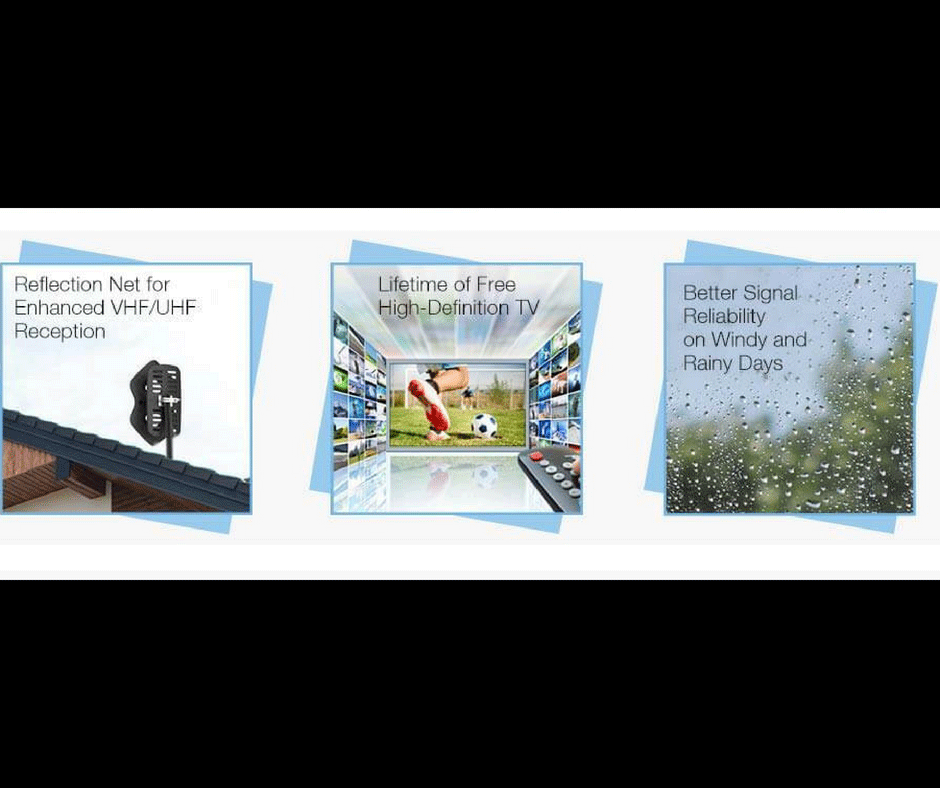 There is nothing specific about a TV antenna that is used to receive good quality. When choosing a TV antenna, it's important to check some parameters such as VHF, UHF reception etc. These specifications are important for reception of outdoor antenna.
Get the flat 56% discount on 1byone's Amplified Outdoor TV Antenna. Hurry! Sale ends 30/7/18.
Original Price: $89.99
With Deal: $33.99