Are you getting tired of chopping vegetables and fruits every day and also scared of slicing your fingers or injuring them?
Then a vegetable chopper is a very handy tool to have. It can not only save your time but also cut down on waste. It is a great piece of kitchen equipment if you need to and wants to make your cooking experience better.  Now before you go ahead and grab any old chopper you need to consider the following;
What is a Vegetable Cutter?

Quite simply, it's a vegetable cutter but designed for fruit and vegetables both. Mothers can use them to create zucchini noodles, curly fried potatoes, apple spiral for their children's lunches. You can make use of them to turn ordinary meals into something truly special.
Cutter comes in all kinds of blades that cut the perfect ribbon or thin stands. They are usually about an inch or less in length, though some are larger. This makes vegetable cutters perfect for chopping!
Buying The Best Vegetable Cutter

You should definitely look for a cutter that is very light-weight and simple to use. Easily cut vegetables & fruits in different shapes.  This will mean that you can create a fantastic portion of fruits and vegetables each and every time.
This specific type of kitchen equipment provides you with the possibility of creating various different shapes for your potatoes. Each product usually comes with a minimum of 3 stainless steel cutting blades that you could choose from and all you have to do is to insert one into the holding chamber.
One cutting blade will have a certain amount of holes in the grid pattern. If you are lucky enough to purchase a cutter with an interchangeable blade then you can create different shapes of fruits & vegetables. One of the cutting blades will let you create a portion of fries that are exactly the same or really similar to the sort that you can find when you go to a fast food restaurant like McDonald's.
The Versatility Of A Cutter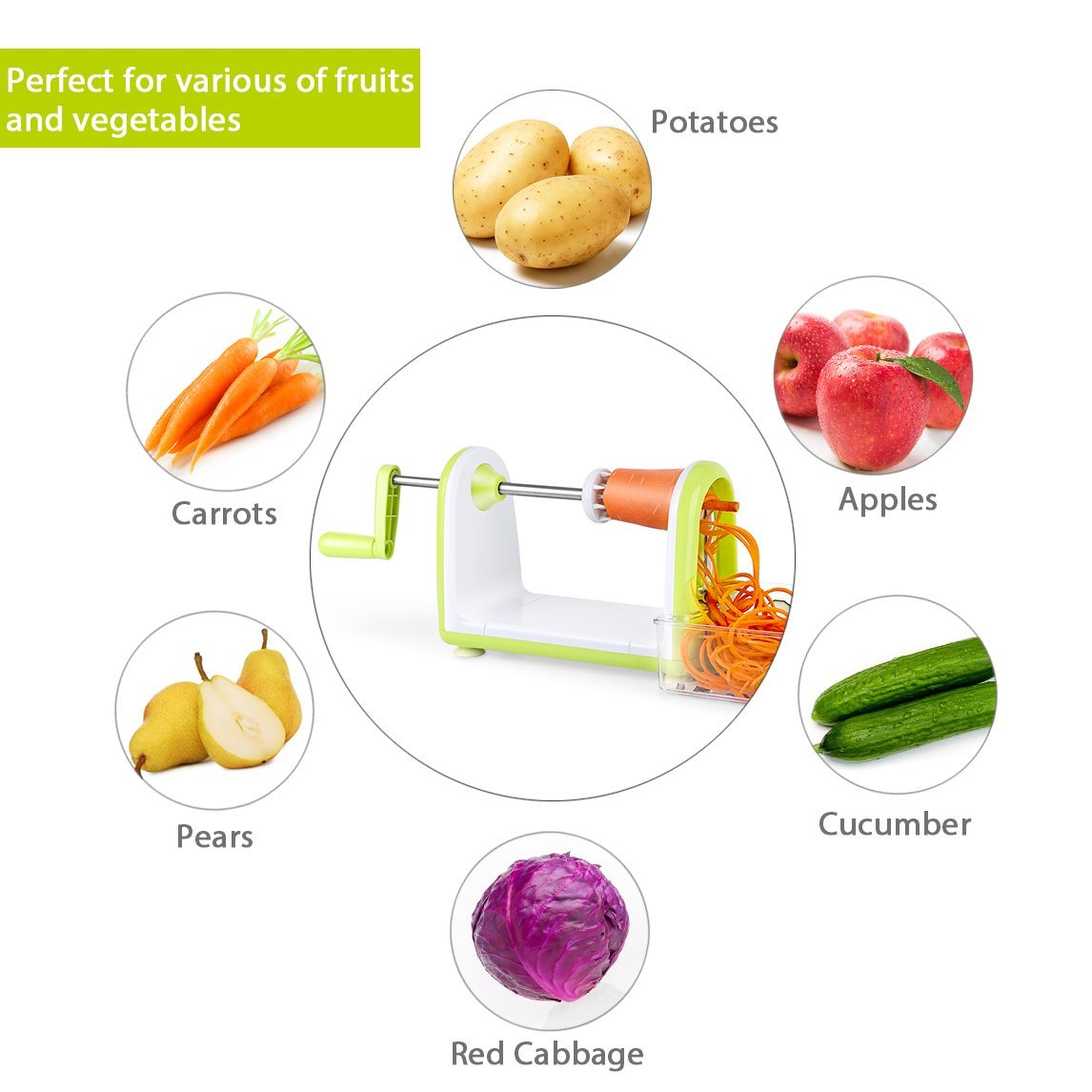 It is great when a kitchen utensil can be multi-functional and luckily that is the case with this variety of product. You can use it to chop up other sorts of fruits and vegetables. If you are looking to make up a healthy dish of a salad then you can chop up a range of carrots, apple, and peppers to help you produce a delicious all vegetarian meal platter.
If you are looking to buy a multifunctional cutter, 1byone's Spiral Slicer 5 Blades Spiralizer, Vegetable Cutter and Shredder is the best choice for you. It is the perfect gift for your family and friends, from mother to college students, professional chefs, travelers, healthy food enthusiasts, and food bloggers.
The Blades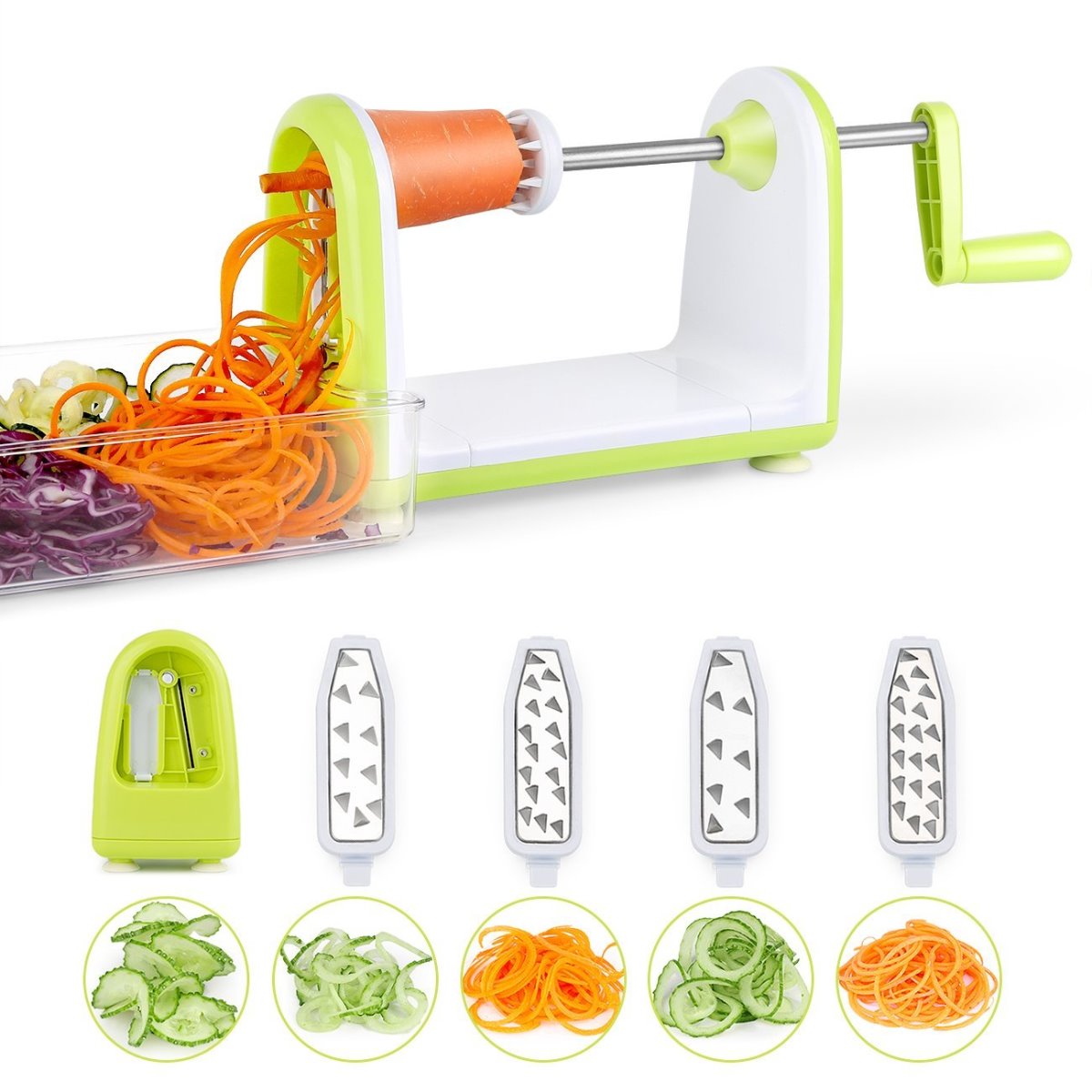 Spiral Slicer comes with 5 different blades, each of which cuts perfect ribbon or thin strands. These blades are perfect for Ribbon-like strands, 2mm-wide ultra-thin strands, 3mm-wide strands, 5mm-wide strands, and 7mm-wide strands.
Easy to Use
First, press the slicer on a stable and smooth surface

Choose a blade and slide it into the slicer's blade holder

Put a fruit or vegetable into the slicer's food holder

Rotate the turning handle to move the piece of fruits & vegetables
Easy to Clean
Clean all the spiralizer's parts with warm water and a mild cleaning agent before the first use

After that, carefully dry all parts
Price- $14.99
You can purchase this amazing 1byone's Spiral Slicer 5 Blades Spiralizer on Amazon.