Food is something that everyone falls in love with. And snack s are the favorite part where we can munch them all the time, but the issue is fats and oil that is associated with it. Everyone wanted a solution over this, that's when Air Fryers came into existence.
What is an Air Fryer?
 An air fryer is a revolutionized kitchen appliance for cooking healthy food with circulating air with less oil and no smoke.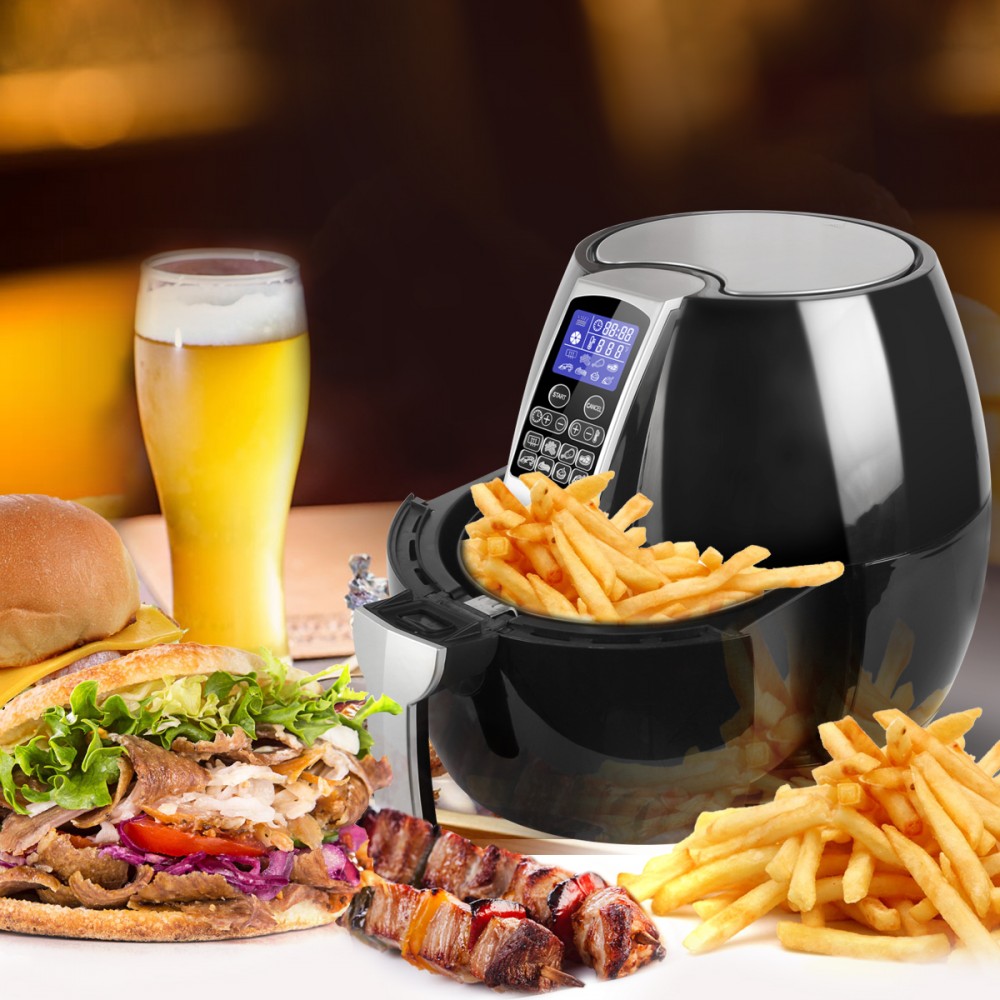 Who all need this?
People who eat Frozen Food need this ASAP.  It fries things with less oil or fat than most other cooking methods.
I know that's not a deal breaker for most people, but this thing (while not that heavy) is pretty sizable, and as a minimalist clean freak, I'd much rather have the counter space than one extra gadget to clean and maintain.
The price is reasonable and you get the food satiable enough as per your taste buds.
If you love cooking fried crispy things without calories then this air fryer should be first on your list.
Pros of Air Fryers: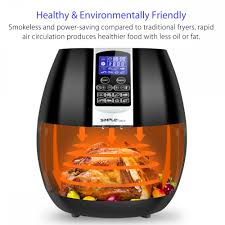 Lesser injuries and burns:
At some point or the other oil spills on your skin while cooking food. By using an air fryer that eliminates oil completely and keeps the messy stuff covered, you need not worry about searing yourself while frying.
Easy maintenance and cleaning
Cooking food in pans makes them sticky and the scrubbing difficult. But with the air fryer pans, they don't stick and you will forget scraping it. Air Fryer parts are dishwasher friendly and easily removable which makes them quick to use. Also be happy as there are no oil spills to kill.
Multipurpose Use:
https://www.youtube.com/watch?v=UJ4nGi9zMnI
 Grill, fry, roast or bake – you can do it all. Know the right temperatures and timing to set a and leave it to do the magic. Some examples of food you can cook using an air fryer:
Air Fry: Frozen snacks such as French fries, onion rings, chicken wings
Air Grill: Seafood, vegetables
Air Bake: Muffins, cupcakes, brownies, and bread
Air Roast: Meats 
Free Recipe Books:
To get the most out of the Air Fryer you also get a recipe book to get started with cooking with on your journey of fast, yet healthy meal preparations.
Tips and Tracks:
Don't stuff too many items in the air fryer do keep some space for the air to circulate.
Stir and rotate food in the container every 5-10 minutes to allow even cooking.
Coat food with the light layer of oil, to make sure they don't stick to the basket.
Pat foods dry before cooking in an air fryer to avoid splattering and excess smoke.
 Empty fat from the bottom machine especially when cooking food high in fat such as chicken wings.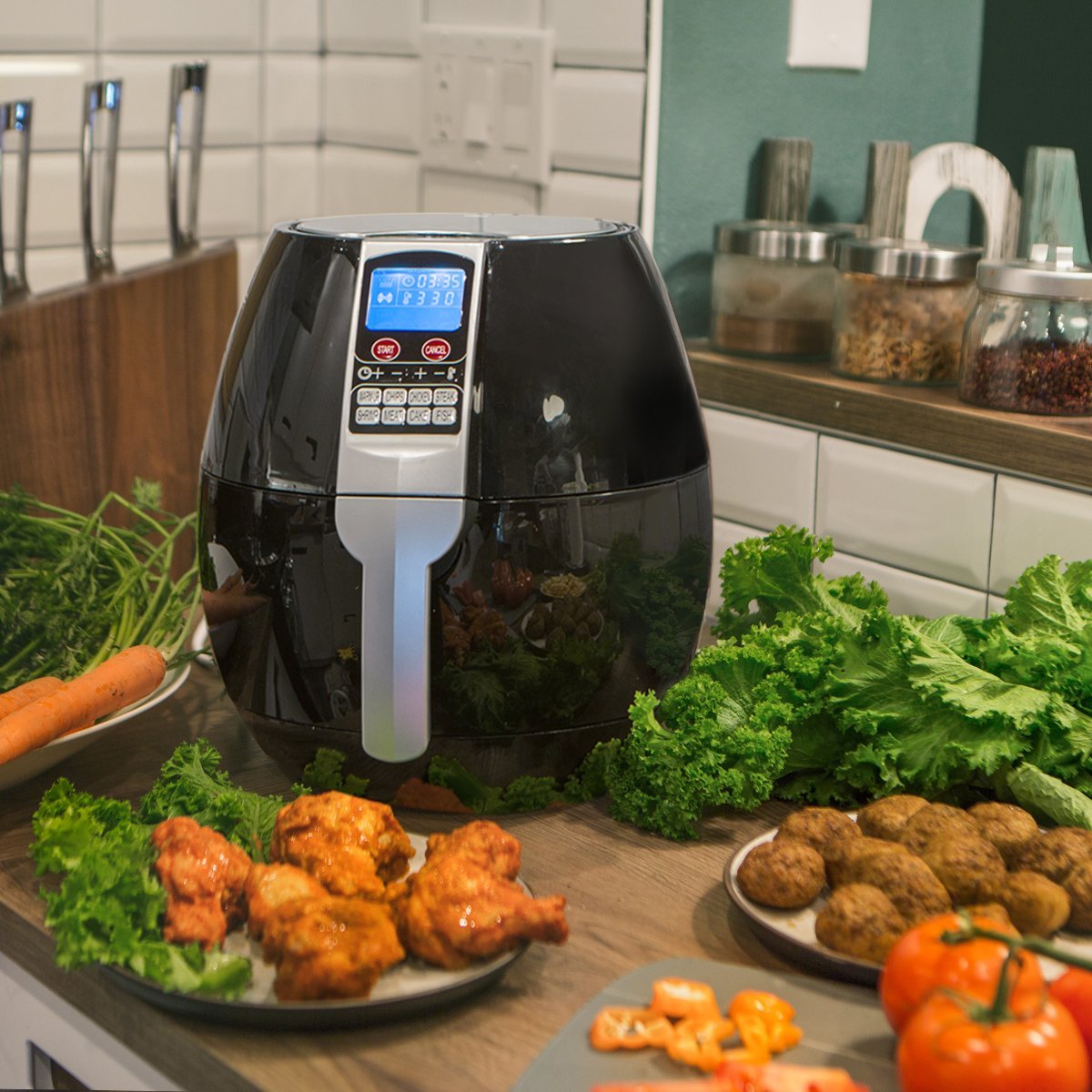 1400W Multi-function Electric Air Fryer- $ 109.99
Designed with a technology that fries food faster mostly within 30 minutes. Automatic and manually adjustable timer and temperature settings. It's environmentally friendly as it makes no smoke and has rapid air circulation. You get a healthier lifestyle and healthier cooking with 1byOne Air Fryer. If you are not good at cooking, this air fryer makes things easier, cook things at the press of a button. It has 8 integrated programs to make cooking more easily and faster. Programs include French Fries, Chicken, Steak, Shrimp, Meat, Cake, Fish, and Warm-up.
        2.  Air Fryer with Rapid Air Circulation Technology - $ 99.99
This is a mechanical version of the above fryer, you can cook delicious food with this fryer. It has an automatic timer that shuts down after the requested timing.  Non-stick coated and dishwasher proof for quick and easy cleanup. It is multi-functional and varied. Can be used for frying, baking, grilling, and roasting. Ideal for chips, frozen meats, chicken, steak, pork chops, cakes, vegetables and much more.
Conclusion:
Air fryers are becoming an important kitchen accessory as everyone wants to save time and have
a healthy diet. Buy the best Air fryer from Amazon and review your best experience.