Your pets are your family and so taking care of their health and hygiene is our responsibility. Pet grooming sessions are important as it is more than just making them look and smell nice. It is a process for the maturity that they learn to be still during the pet grooming sessions.
Not every pet loves the session but a regular habit so many owners tend to send their pets to a professional grooming center. However, you can have some handy gadgets that you can use to groom your pets. This is especially true of nail clipping and ear cleaning which require them sitting completely still for the process. Good breeders will often begin grooming their litters as soon as they are old enough to help get them used to the process. Even if you do opt to use a professional pet groomer, there are still a number of regular grooming techniques that you can do at home with your pet to strengthen your bond.
Important benefits of pet grooming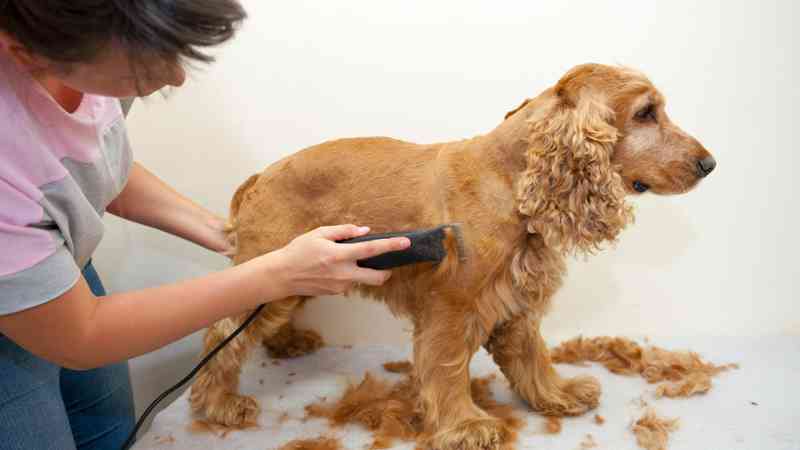 Brushing
Mostly we think that this is the full and final stage of grooming but there are more elements to the process though this is the most important one. Regular brushing removes dirt, dandruff and dead hairs from your pet and in kittens and cats can also cut back on the number of hairballs that they ingest. It also prevents tangles and matting which can lead to pain and infections. Brushing also stimulates the natural oils in your pets' fur, which are then spread across the coat leaving it with a glossy and healthy sheen.
Nail trimming
Your pet needs to be extra attentive and less fidgety during this session else it can lead to injuries and infections.  For older pets, it can also ease arthritis and other joint pain.
Bathing and teeth: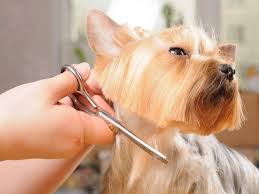 Bathing should be carried out at regular intervals and also the dental hygiene should be taken care of. Some washing is needed to ensure that your animal remains clean and germ-free. Ask your vet what sort of bathing schedule they would recommend for your breed of dog.
Our Pick: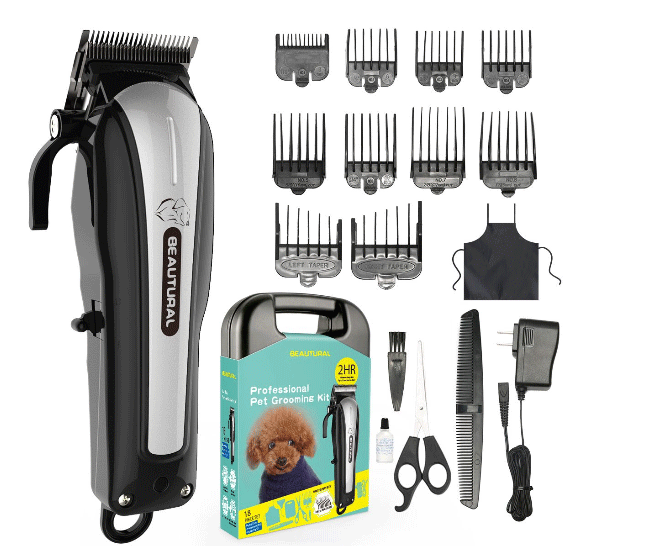 We suggest you get the  Pet groomer as it helps in grooming up your pet in varied ways.
Features:
The kit contains cleaning brush, stainless steel scissors, 10 guide combs, storage case, styling apron, power adapter instruction manual. It contains 10 clipper guides also easily adjustable levels for your pet.
Long-lasting rechargeable battery,  1.5-hour quick charge for up to 2 hours run time and high mobility.
Low noise and vibration so that you're pet is at ease during the grooming sessions
Heavy-duty motor and precision blades make the grooming session easy even if the pet has long hair.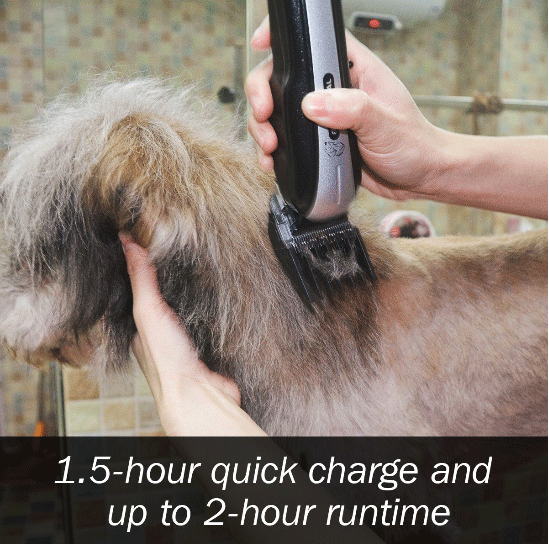 Price: $32.72
Conclusion: