Getting TV for free seems almost too good to be true, and a lot of people have wondered how it all works. How do TV antennas get signals? How do you set up a TV antenna?  What TV antenna is right for you?
In response to a growing market demand for indoor and outdoor TV antennas that actually work and are easy to install. Meet the 1byone's Outdoor Digital HDTV Antenna! It's a long-range, multi-directional, industry-leading technology, allowing it to receive a greater range of frequencies from widely-spaced broadcast towers.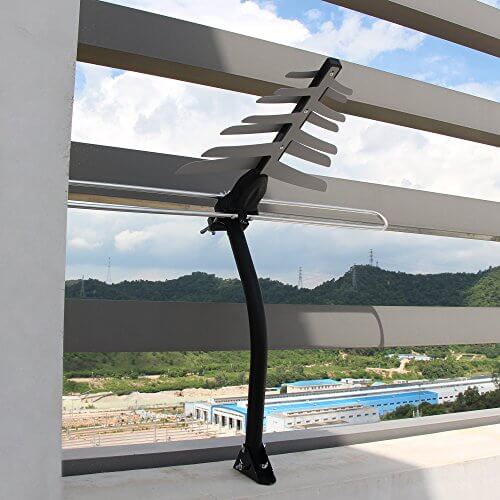 1byone's Outdoor TV Antenna Specification
Frequency Range: 174-230MHz; 470-862MHz
Receiving Range: VHF/UHF
Built-in Amplified Antenna Gain: 21-23dB for VHF; 26-28dB for UHF
Impedance: 75Ω
Power Supply Input: AC 110V 60Hz
Power Supply Output: DC 12V 100mA
Features:
Free for Life - Never pay your cable or satellite fee for television again! You can get all local channels crystal clear and absolutely free! The 1byone antenna can pull in all of your local news, sitcoms, kids and sports programs. Simply connect the antenna to your TV using a coaxial cable, perform a channel scan, and in minutes you'll be enjoying your free local programs.
The Best Picture and Sound Quality - You can now experience HDTV in the highest quality picture and sound available. Over-the-air broadcasts are transmitted in uncompressed full HD (1080P), ultra HD (4K) and 3D channels; far surpassing what cable and satellite offer. Many local broadcasts are digitally aired in Dolby 5.1 Surround Sound giving you the ultimate soundstage for watching live television.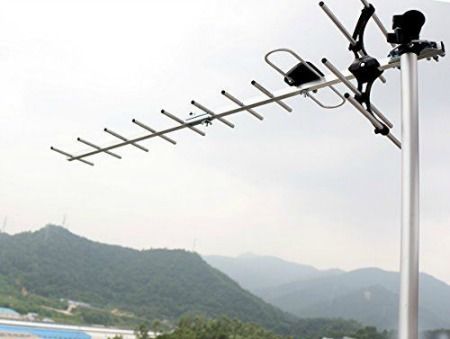 Included Mounting Pole and Built-in High Gain and Low Noise Amplifier -J-shape pole for antenna installation; super long distance reception up to 85 miles. Superior construction to withstand tough outdoor weather conditions.
Receive Free Local HDTV, VHF, and UHF Signals - Optimized for a 1080P digital reception, the 1byone antenna allows you to pick up free local VHF and UHF high-definition and standard definition signals.
1byone Comprehensive Warranty - With a 12-month warranty.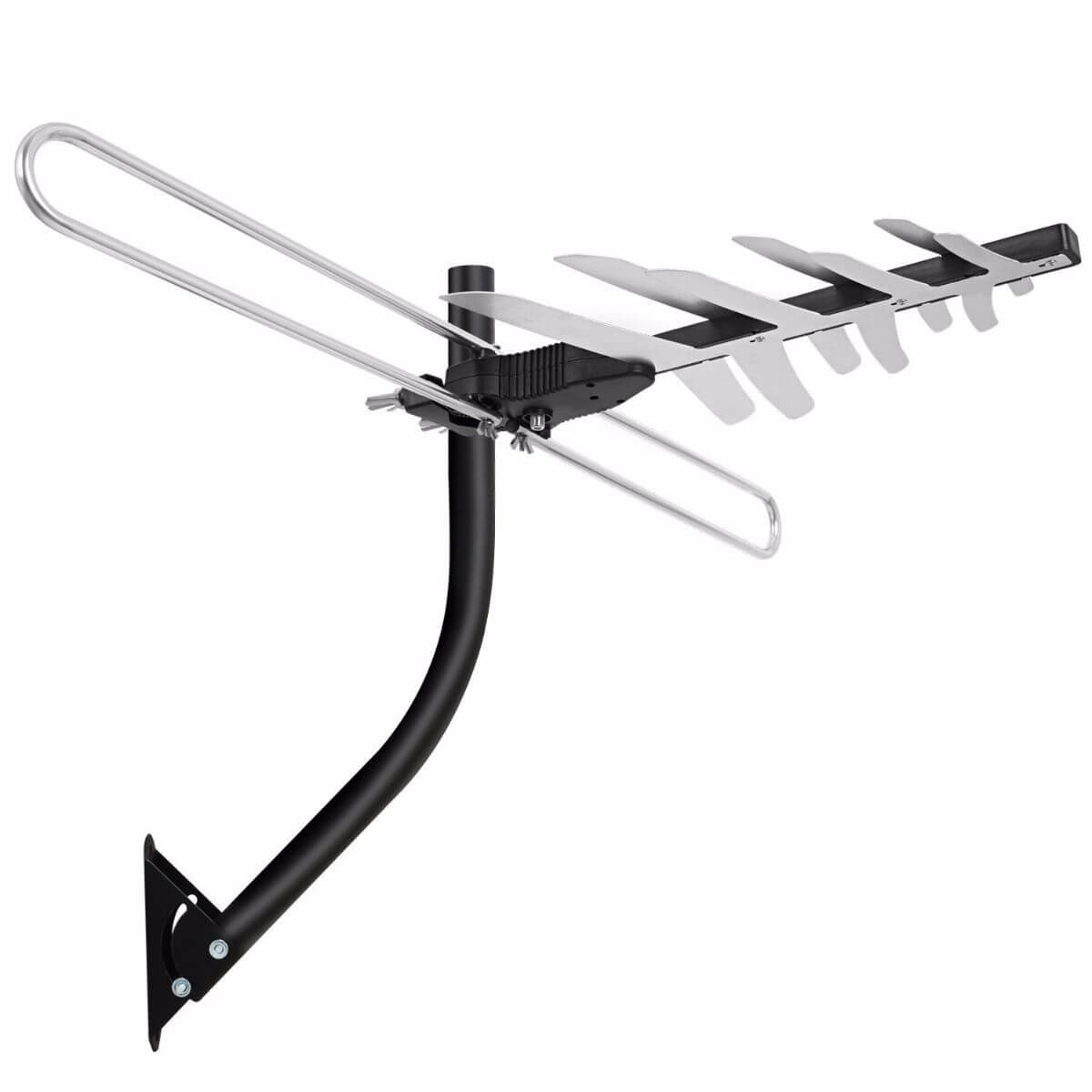 What our customer says:
-Mark Hepburn
I live about 55 miles from New Orleans and just outside of the broadcast range of Baton Rouge also in a smallish town. After the latest in the annual round of Dish standoffs with my local NBC affiliate, I decided it was time to leave after nearly 20 years. Too far for a cable provider and not wanting to go with another sat provider, I decided to cut the cord and use OTA and stream with my Prime account.

I researched a bunch of antennae and decided to give this one a try because of the claimed range and am very glad I did.
This 1byone 85 Miles Range HDTV Antenna Works like a champ. 
My total cost to install for two antennae, coax, flashing boot was just over $115 and that pays for itself in about two months. Overall I highly recommend
this product
for ease of installation, build quality and performance.
Finding the right antenna in your location?
Check if your location is in proper coverage http://antennapoint.com/ or http://tvfool.com/
Antenna reception and picture quality may be affected by local terrain and obstructions such as hills, mountains, buildings, and even trees. Channel reception and picture quality may also be affected by the range and direction of your nearest broadcast tower.
Freeview reception is dependent upon environmental factors, we cannot guarantee reception in all conditions. We do offer a 30 days money back guarantee on all new items in order for you to test the suitability in your area.
Know more about 1byone antenna products here.