So I thought I'd back the underdog, the dark horse you could say. This brand does not pop into my head immediately when I think of turntables, and it probably won't for many of the old school era. 1byone is a newcomer to the turntable market and for those who aren't familiar or have never heard of 1byone (this was me two months ago!) here is some background on the brand.
It is a global electronic company that sells products ranging anywhere from home security to home decorations and anything and everything in between. By just conducting a simple Google search, with one click of the mouse I found good reviews across the board of electronic products from doorbells to Bluetooth speakers.
As reviewed by Amazon consumers and tech blogs 1byone has shot up the list as one of the best turntable brands. A very hard feat as some of the more established brands (e.g. Panasonic, Teac) has failed to become recognised as a good turntable brand. Hence rated as one of the best turntable brands around.
I have rated in order the best turntables from 1byone rated from 1 to 3.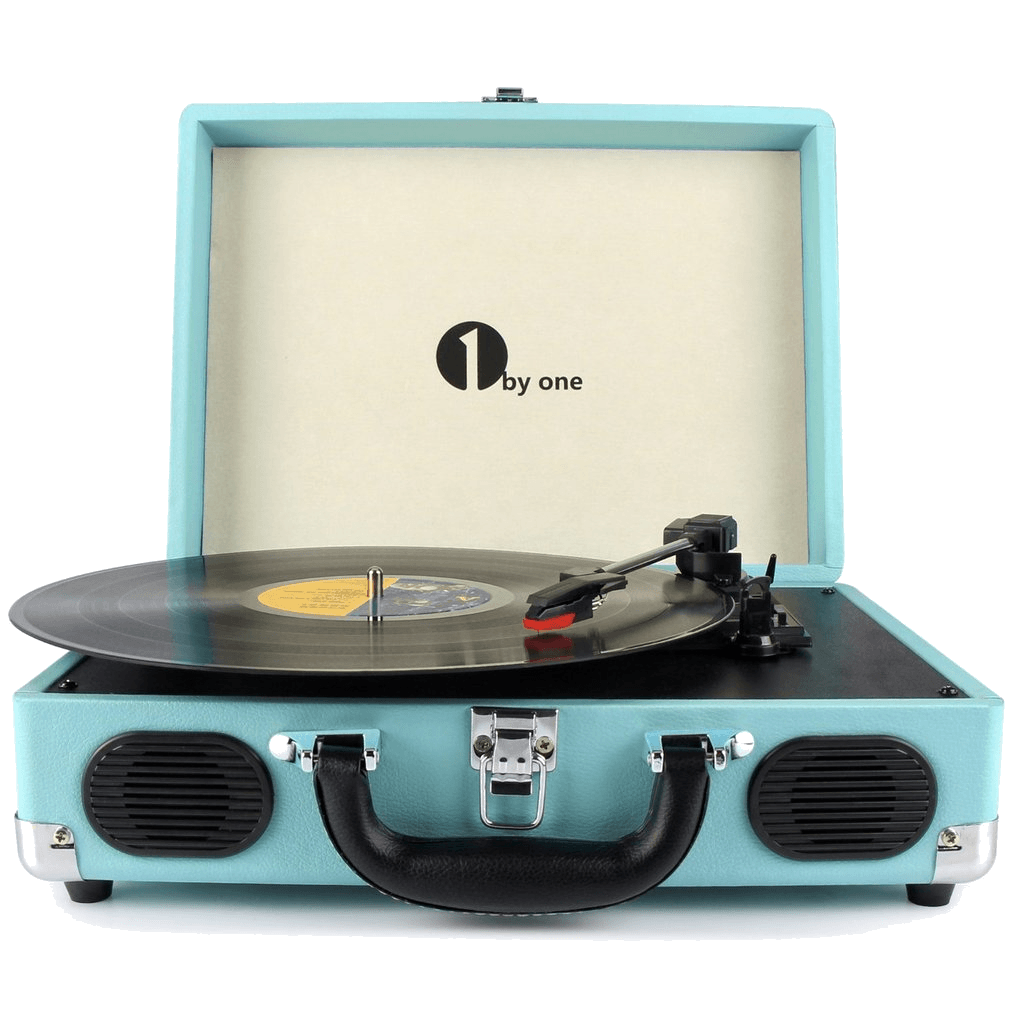 1. 1byone Belt-Drive 3-Speed Portable Turntable
Available in turquoise and black outer shell.
I'll start with the most popular and most functional turntable model available. This turntable like all of those produced by 1byone features a 3-speed (33/45/78 RPM) belt-driven player with built in speakers. This model reassembles a vintage suitcase making it the most portable of turntables available. This is the most basic model of turntable without the bells and whistles instead the more traditional features whilst producing undeniably good sound quality. The quality of sound produced by this brand is the main reason this newcomer has shot through to the top with rave reviews from happy consumers.

2. 1byone Belt Driven Bluetooth Turntable With Stereo Speaker
Here is where modern meets vintage, at a cost of course. This model provides the best of both worlds with value for money with nothing spared, all the bells and whistles included. This model features the traditional turntable features as the more basic model above with a modern touch with the plug & play feature allowing the utilisation of the in built stereo speakers with Bluetooth functions for compatible phones, tablets and other mp3 digital devices. The features don't stop there, for hard core vinyl enthusiasts that want to share their passion wherever they go. With the vinyl to mp3 recording function, converting your favourite vinyls into mp3 files to be played wherever you wish.

3. 1byone Belt Driven 3-Speed Turntable With Built In Speakers
The only reason this turntable has been rated number 3 is it's availability. It's damn hard to find, being the original turntable released by 1byone. Since being discontinued and 1byone has released two turntables on opposite ends of the vintage-modern scale. This turntable sits perfectly in between, with all the features of the most basic model and the addition of vinyl to mp3 recording. That's the biggest difference. This is as far as aesthetic easily my favourite turntable by 1byone, I'm a sucker for a vintage wood finish and yes on my Christmas list. So the hunt begins.

All in all I rate 1byone one of my favourite and best turntable brands around today. It's no easy feat to breakthrough into the turntable market, especially with many turntable enthusiasts not straying beyond the more traditional brands such as Audio Technica, Jensen and Sony. For those who want a good turntable brand at a reasonable price willing to veer away from the mainstream 1byone is worth a shot. 1byone have models for both the more traditional turntable fan to the more tech savvy modern turntable enthusiast wanting to get an all-in-one turntable with modern features without substituting good quality sound.
I've given you my 2 cents on my favourite and one of the best turntable brands. Now it's up to you. Whether you go traditional or modern is completely up to you.
Happy hunting.
Product images sourced from Amazon.com
Special thanks to Gerald from musicauthority.org, read original post here.