If you spend most of your time with your desktop or laptop you know the pain of using those standard desktop keyboards which are uncomfortable and cause pain in your hands.  Being writers and programmers we just can't avoid the keyboard. You might have heard about the Carpal tunnel syndrome which happens due to improper usage of the keyboard in which the median nerve of your wrist gets compressed and causes pain and numbness in your fingers and hands.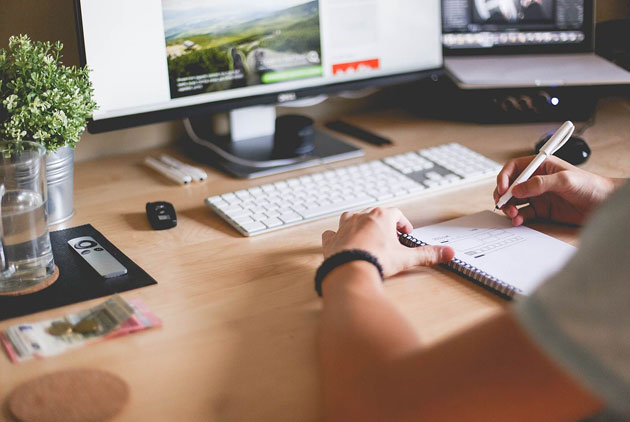 Ergonomic keyboards are the new generation keyboards that make your typing easy and less troublesome. Most of the people are opting for these keyboards as their typing is relaxed, fun and crisp rather than like the standard keyboards.
Why Wireless Ergonomic Keyboards?
A lot of your time goes typing if your work includes staying up late nights and filling sheets or writing data then you surely need to switch to an ergonomic keyboard which will satisfy your needs.
For passionate gamers who are hands by with the keyboard 24*7, surely need to upgrade the version and style of the keyboard.
Wireless and Bluetooth keyboards can help you declutter your desk, type more comfortably on your phone or tablet, or use a computer or TV streaming box from your couch without running a cable across the room.
No need to carry an extra laptop to field or always home, with a portable keyboard your report generation or typing work becomes easy as you can control the phone monitor with your keyboard itself. Typing on the touchscreen is what you don't have to do when you have portable keyboards.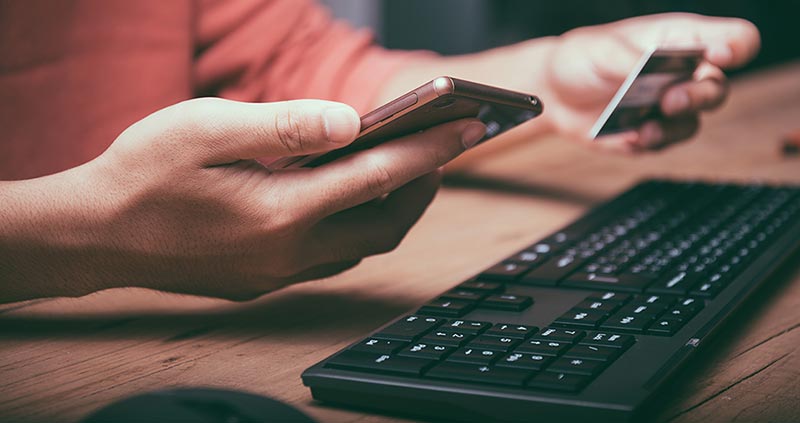 Why should you buy these?
Layout: The layout is important as even if the keyboard changes and becomes more customizable the keys should be placed similarly to the traditional keyboard like the Backspace, Delete, Tab should be at their regular positions.
It's no fun when typing gets troublesome and hectic do avoid buying such keyboards.
 Size: The portable keyboard is smaller in size than the traditional keyboard, but the closer its size is to the normal keyboard the more the keys will be spaced sized and comfortable for typing.
 Durable: A keyboard that has a longer life and isn't heavy to carry, find the one that is made of nylon or plastic.
 Battery Life: Most portable keyboards come with batteries large enough to provide weeks of typing between recharging. But only a few have lights that'll let you know when time to top one off. Invest in one that offers this feature, if you can.
These are the best of 1byOne keyboards that you can get on Amazon.
1.Foldable Bluetooth Keyboard - $35.99
The tri-fold design makes it a perfect portable keyboard. The layout is the standard layout with QWERTY hotkeys compatible with iOS/Mac OS, Windows, Android and all other Bluetooth enabled devices like desktops, laptops. It can work for 144 days in standby mode without charging for 64 continuous hrs.The battery is a  210 mAh lithium battery. The ergonomic tilted design reduces wrist pain.
The ultra slim design of the keyboard makes it easy to store in backpack, case or messenger bags. When folded the keyboard is about 5.75 by 3.6 inches in dimensions and about .5 inches thick. The top edge of the keyboard has micro USB for charging the internal battery. At the top center of the keyboard is two LEDs for power, charging and Bluetooth.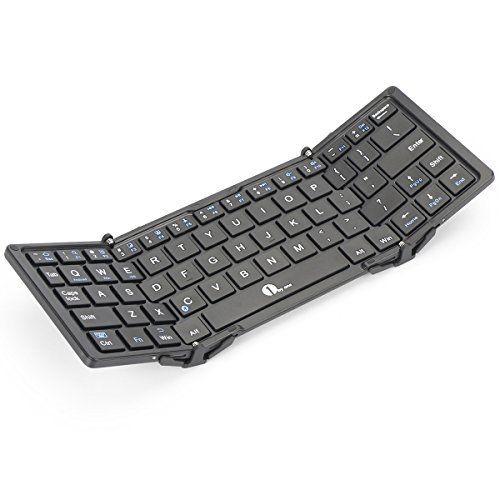 You need to use FN key for carrying out many functions as everything cannot fit on a small keyboard. The functions of the keys depend on what Operating system you are using. Pairing the keyboard with Bluetooth requires pressing FN key and C Key
2. Wireless Bluetooth Keyboard with Built-in Multi-touch Touchpad - $26.99
https://www.youtube.com/watch?v=Lpcl6T-S3ug
 Effortless navigation with the help of standard built-in Qwerty keyboard and is multi-function. It is made for windows and android but can be used with all the Bluetooth enabled devices. The battery lasts for about 60 days and is a 2 AAA battery, it goes to sleep mode after being idle for 15 minutes, press any key after 3 seconds to awake it.
It is fashionable with the ultra-thin sleek design uses stainless steel back and rubber support. The Apple iOS does not support touchpad mouse function.The best part is you can switch between the mouse and touchpad with just one click. Now you don't need to carry an extra mouse anywhere with a simple portable keyboard.
3. Ultra-Slim Bluetooth Keyboard – $ 19.99
https://www.youtube.com/watch?v=P0eFzwugI2o
 The sleek and ultra slim design is easy to carry in backpacks or cases. It requires you to press Fn and C to enable Bluetooth connectivity. The battery built up is of 280 mAh lithium battery, works for 4 months in standby mode and takes less than 4 hours to get fully charged.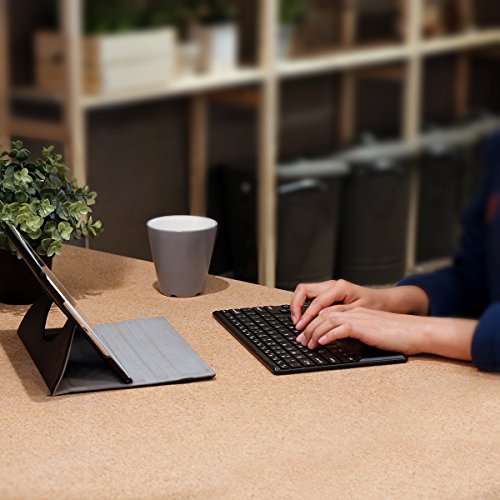 The effective range of 10 meters and high-speed connection due to the Bluetooth chip of 3.0 of American Broadcom and is 8 times faster. Press FN and A or S or D key to shift between Android, Windows or iOS systems after connected successfully.
These 1byOne Keyboards guarantee your satisfaction and will make your typing easy and satisfactory. Buy the keyboard as per your need we have more options that you can look into.